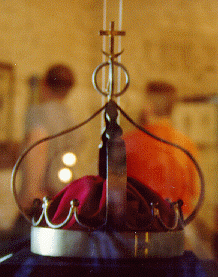 This is the crown of the Royal House of Araucania. It was presented by a group of Araucanian nobles to Prince Philippe of Araucania in 1986, on the occasion of his 60th birthday. The crown is on display at the Musée des Rois d'Araucanie à Tourtoirac, France.

The crown is constructed of hammered steel. On the front of the band is a stone taken from the Rio Bio-Bio, the northern border of Araucania. Within the orb on top of the crown is a stone from the Garden of Gethsemane in Jerusalem.

There are reports from well-informed individuals of an earlier Araucanian crown that was lost during the German occupation of Paris in World War II. We are unable to confirm this report and have seen no photographs of this earlier crown.